Started in 1990, ELECRAMA has become one of the largest power, energy and automation exhibition globally, thanks to the authoritative influence of the organizers, the Indian Electrical and Electronics Manufacturer's Association.
Held every two years, the latest edition held in Delhi NCR, India, between 18-22 February 2023, happened after a gap of 3 years due to Covid-19 and was a major global exhibition for the power industry certified by the International Exhibition Federation, featuring more than 1,000 exhibitors from 60 countries and regions worldwide and more than 15,000 booked meetings.
With its pioneering new external insulation solutions for the T&D sector, Shemar attracted many Indian national & state grid / utility companies and equipment manufacturers.
With continuous innovation in new materials and technologies, Shemar is not only committed to providing customers with reliable and economical products and solutions, but also combines the superior performance of its own products with global low-carbon trends to create greater value for customers and stakeholders worldwide.
Shemar booth
Technical experts from the Central Electricity Authority of India visit the Shemar booth
Mr. Gautam, a technical expert from the Central Electricity Authority (CEA) of India, visited the Shemar's booth and showed great interest in the innovation of the new CICA solution with external insulation. The construction regulations released from CEA confirmed that the corridor aspect of the CICA solution is very useful for the Indian Transmission sector.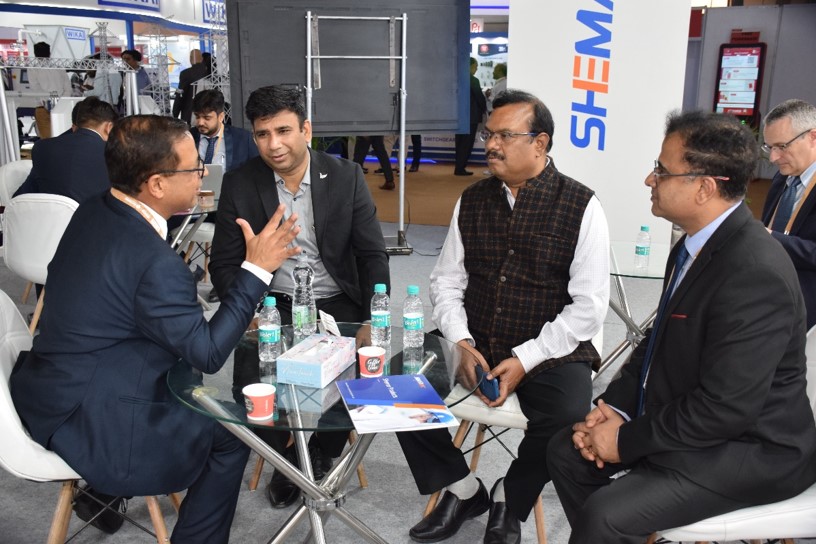 PGCIL visits Shemar booth
The PGCIL team from Power Grid Corporation of India came to visit the Shemar booth and discussed with the Shemar team on the use of silicone bushings in 765kV substations and lines, expressing his approval of Shemar's solution and noting that it was a major breakthrough in the face of flashovers and disruptions in the substations / overhead lines. Mr. A K Behera (CGM) and Rajeev Kumar (DGM) then had an in-depth conversation with the Shemar team on how the umbrella sleeve and CICA solution can help with industry pain points such as substations and transmission lines.
Power transmission company TS TRANSCO visits Shemar booth
Mr. Jagat Reddy, Director of TS TRANSCO and his team visited Shemar's booth to discuss their 132kV-220kV voltage boosting project with the Shemar team and showed great interest in Shemar's CICA as well as substation anti-flashover solution.
L&T Transmission visited Shemar booth
Rajan Bansal, Head of L&T Transmission, and E. Suresh, Head of BD, visited Shemar to express their interest in using Shemar's solutions on projects with high right-of-way costs, seeking "rate contracts" and cross-team engineering solutions.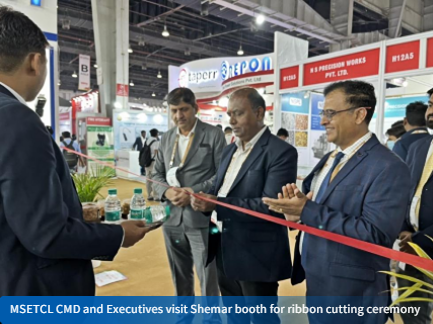 MSETCL CMD and Executives visit Shemar booth for ribbon cutting ceremony
Mr. Dinesh Waghmare – Chairman & Managing Director of MSETCL, Mr. Kadri – Director Projects, Mr. Kalantri – Director Operations and Mr. Rohidas Mhaske, Executive Director of Transmission Lines, discussed the use of CICA, long life line insulators and umbrella sleeves in MSETCL O&M projects after visiting the Shemar booth.
Kanohar Electrical executives visit Shemar booth
Prominent Manufacturers, OEMs visited Shemar's booth to drive / continue existing partnerships and cooperation on the insulators and hollow composites.
Managing Director of GE India – Mr. Sridharan, Mr. Ali Akhamal and global sourcing team from Siemens, Mr. BR Charan – BU Head of CG Power and other senior officials from OEMs visited.
GE T&D INDIA LTD visited Shemar booth
Siemens Global Sourcing executives visit Shemar booth
CG Power's senior management visited Shemar booth
Shemar's participation in ELECRAMA 2023 has a perfect ending. We look forward to seeing you next time! Shemar has always been committed to providing the world with "low carbon, less land occupation, reliability and economic efficiency" new external insulation power grid solutions. In the future, Shemar will continue to create value for more interested parties; accurately combat the industry pain points, and innovation will lead the industry progress!